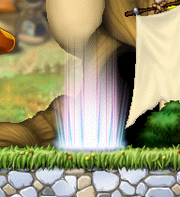 Portals are used in maplestory to travel from map to map, to teleport across the map, and to initiate scripts.
Portals in the WZ Data
[
]
Portal data
[
]
pt

The type of the portal (see list below).

pn

The name of the portal.
Other portals points to a portal by the name of the portal.

tm

The id of the map that the portal warps to.

tn

The name of the portal (which is in the target map) to warp to.

x

The X position of the portal

y

The Y position of the portal

horizontalImpact

The horizontal force applied from spring portals (such as those used mainly in jump quests)

verticalImpact
script

The script called upon activation of the portal

onlyOnce

The portal can only be used once and then it deactivates

hideTooltip

Hides the name of the next map that appears when you stand at a portal

delay

The delay after the portal is activated before it takes effect.
Types of portals
[
]
0
1
2
3
4
5
6

Name: tp
Full Name: Town Portal Point
Description: 'Town Portal' used for the skill Mystic Door. Same door is used as animation at other end of the portal, too.

7

Name: ps
Full Name: Portal Script
Visible: Unknown
Warps: No
Automatic: No
Script: Yes
Impact: No
Description: A portal that executes a script when a player enters it

8
9
10
12
13

Name: pci
Full Name: Portal Collision Custom
Visible: No
Warps: No
Automatic: Yes
Script: No
Impact: Yes
Description: Applies a boost in the specified x and y directions

14